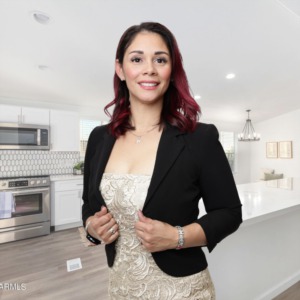 Representing Arizona homeowners and future homeowners, I am  committed to understanding client's' needs and utilizing my keen negotiating skills and team of experts to ensure a successful transaction.  Choosing someone with a diverse skill set is exactly what you need to ensure the end goal is achieved; HOME OWNERSHIP
As an Arizona resident of 20+ years, I understand the many benefits of living in and around the Phoenix and surrounding Metro  areas. Keeping current with the expansion and growth  throughout the Valley, the housing market trends and ever changing financing options, constant continuing education is absolutely necessary in this field and learning is a passion of mine.
I am joining the real estate profession as an asset in your home search; to allow my nature of being detail oriented, compassionate, dedicated, direct and knowledgeable ensures your  transaction will be fully executed by a team of experts in every step of the process and  with the utmost importance.
 I graduated The Bryman School in 2003 with a Certified Dental Assistant & Associate's Degree.  I have worked with TOP DOC award winning Dentists- Helping patients restore their confidence  levels and improve their lives was my main goal; someone who cares is someone who guides and educates.  I have three children,  Kelsey, Sylvester, Maverick and a Wonderful Partner Matthew; who serves as an Officer of the Court. Although I am a Chicago native- I have resided here for two decades and absolutely love Arizona.
I have partnered with A.Z & Associates Brokerage because they truly encompass everything you need to utilize in finding the perfect property. 
I look forward to serving you, your family and friends in future real estate transactions!
 Ashley Drozt